06-23-06-30
The Cascade Of Deflation -Asian Shipyard Demand Collapsing
By The Edge Markets

SINGAPORE (Jan 12): The weakening yuan and China s waning appetite for raw materials have come around to bite the country s shipbuilders, raising the odds that more shipyards will soon be shuttered. About 140 yards in the world s second-biggest shipbuilding nation have gone out of business since 2010, and more are expected to close in the next two years after only 69 won orders for vessels last year, JPMorgan Chase & Co.analysts Sokje Lee and Minsung Lee wrote in a Jan 6 report. That compares with 126 shipyards that fielded orders in 2014 and 147 in 2013. Total orders at Chinese shipyards tumbled 59% in the first 11 months of 2015, according to data released Dec. 15 by the China Association of the National Shipbuilding Industry. Builders have sought government support as excess vessel capacity drives down shipping rates and prompts customers to cancel contracts. Zhoushan Wuzhou Ship Repairing & Building Co. last month became the first state-owned shipbuilder to go bankrupt in a decade.

The chance of orders being canceled at Chinese yards is becoming greater and greater, said Park Moo Hyun, an analyst at Hana Daetoo Securities Co. in Seoul. While a weaker yuan could mean cheaper ship prices for customers, it still won t be enough to lure back any buyers. Chinese shipbuilders won t be able to revive even if you try breathing some life into them.

The Baltic Dry Index, which measures the cost of transporting raw materials, dropped 39% last year and hit a historical low Dec 16. Aggravating the situation is Chinese shipyards heavy reliance on bulk carriers, which are used to haul commodities from iron ore to coal and grain. Bulk ships accounted for 41.6% of Chinese shipyards US$26.6 billion ($38.2 billion) orderbook as of Dec. 1, according to Clarkson Plc, the world s largest shipbroker. That compares with a 3.5% share at South Korean shipyards, which have more exposure to the tankers and gas carriers that are among the few bright spots in a beleaguered shipping industry. Cosco Corp. (Valuation: 1.20, Fundamental: 0.35) Singapore, which is owned by a Chinese parent company and has its shipyards on the mainland, and Yangzijiang Shipbuilding Holdings (Valuation: 2.40, Fundamental: 2.20) saw some bulk-carrier orders canceled last year.


http://davidstockmanscontracorner.com/the-cascade-of-deflation-asian-shipyard-demand-collapsing/[1]


Abenomics At Work -Japanese Stocks Fall 6th Straight Day, Down 9.4% YTD
By Anna Kitanaka & Toshiro Hasegawa at Bloomberg

Japanese stocks fell for a sixth day, capping the worst start to a year on record, as markets reopened after a public holiday. Energy explorers led declines as crude oil prices tumbled. The Topix index tumbled 3.1 percent to 1,401.95 in Tokyo, the lowest closing level in more than three months and erasing gains from 2015. The Nikkei 225 Stock Average dropped 2.7 percent to 17,218.96 to cap its longest losing streak since August amid turmoil in Chinese equity and currency markets. The yen traded at 117.52 per dollar, from 118.29 when Japan s stock market closed on Friday.

Investors are questioning when the weak yuan and the fall in Chinese shares will stop and concerns over the Chinese economy is worsening market sentiment, Toshihiko Matsuno, chief strategist at SMBC Friend Securities Co. in Tokyo, said by phone. Japanese stocks are oversold from a valuation perspective. The Topix s 14-day relative strength index fell to 24.4 on Tuesday, below the level of 30 which some traders say indicates that shares will rise. The stock index is down 9.4 percent this year.


http://davidstockmanscontracorner.com/abenomics-at-work-japanese-stocks-fall-6th-straight-day-down-9-4-ytd/[2]


Kyle Bass Japan……………….Abenomics has Totally FAILED!!!!!!!!!!!!!!!!!!!!!!!!!!
http://www.therealnewsmatters.com/search?q=Kyle+Bass+Japan&max-results=20&by-date=true[3]



Asia Recession………………….It's Going to HAPPEN and You Read it HERE First!!!!!!!!!!!!!!!!!!!!!!
http://www.therealnewsmatters.com/search?q=Asia+Recession&max-results=20&by-date=true[4]


Six Days Down: Baltic Dry Index Approaching 400 Points Update
Reuters

The Baltic Dry Index sank to a new record low for the sixth straight session on Tuesday brought down by record low capesize. The overall index fell 3.13 percent to 402 points. The capesize index shed 48 points, or 15.29 percent, sinking to its all-time low of 266 points.

The panamax index fell nine points to 411 points. Jan 11 (Reuters) The Baltic Exchange s main sea freight index, which tracks rates for ships carrying industrial commodities, slid to a fifth consecutive record low on Monday on economic worries about China and a surplus of vessels. The overall index, gauging the cost of shipping dry bulk cargoes including iron ore, cement, grain, coal and fertilisers, fell 3.26 percent to 415 points.

The index has fallen by more than 13 percent in 2016. A downturn in dry bulk shipping has worsened significantly in recent months as demand for iron ore and coal has declined in the response to slower economic growth in China.


http://gcaptain.com/2016/01/12/baltic-dry-index-falls-to-another-fresh-low-415-points/#.VpUojBBulPY[5]


Shipping industry calls out distress signals

In late November, the Baltic Dry Index, which tracks freight charges for shipments of dry bulk goods, hit an all-time low. Its fall underscores just how risky it has been to make macro bets on an economic recovery through exposure to the shipping sector. Apart from a brief rally in 2010, the downturn in the fortunes of shipyards and shipping groups has endured for longer than many expected. Trade, whether by volume or by value, has been virtually flat for years largely because slowing growth in China has dramatically reduced demand for commodities, such as iron ore.

As a result, financial distress in the maritime industry persists. Charter rates for container vessels barely cover the operating costs, leaving shipping companies with little ability to pay their debts. Private equity and distressed debt specialist groups including Blackstone, Carlyle, Centerbridge Partners, KKR, Oaktree Capital Management and WL Ross have rushed to fill the void, by offering rescue finance, buying up debt at a discount and turning it into equity, or buying new and secondhand vessels. So far, their results have been mixed, hindsight shows that some groups ventured into the sector too early. But a more nuanced view suggests that, today, there may finally be pockets of opportunity amid the general rout.

KKR has been among the most active in shipping, adopting a multi-pronged approach. This has involved the creation of a joint venture in 2013 to invest in distressed shipping assets, as well as buying bank loans to shipping companies at a discount. Consequently, the private equity group now owns dozens of ships. It recently added to this collection with its latest acquisition: Chembulk Tankers, a Connecticut-based division of Berlian Laju Tanker, a listed Indonesian shipping company.


http://www.hellenicshippingnews.com/shipping-industry-calls-out-distress-signals/[6]


China's Shipyards Vanish as Country Loses Appetite for Iron Ore

The weakening yuan and China s waning appetite for raw materials have come around to bite the country s shipbuilders, raising the odds that more shipyards will soon be shuttered. About 140 yards in the world s second-biggest shipbuilding nation have gone out of business since 2010, and more are expected to close in the next two years after only 69 won orders for vessels last year, JPMorgan Chase & Co. analysts Sokje Lee and Minsung Lee wrote in a Jan. 6 report. That compares with 126 shipyards that fielded orders in 2014 and 147 in 2013.

Total orders at Chinese shipyards tumbled 59 percent in the first 11 months of 2015, according to data released Dec. 15 by the China Association of the National Shipbuilding Industry. Builders have sought government support as excess vessel capacity drives down shipping rates and prompts customers to cancel contracts. Zhoushan Wuzhou Ship Repairing & Building Co. last month became the first state-owned shipbuilder to go bankrupt in a decade.

The chance of orders being canceled at Chinese yards is becoming greater and greater, said Park Moo Hyun, an analyst at Hana Daetoo Securities Co. in Seoul. While a weaker yuan could mean cheaper ship prices for customers, it still won t be enough to lure back any buyers. Chinese shipbuilders won t be able to revive even if you try breathing some life into them.
http://www.newsmax.com/Finance/StreetTalk/China-shipbuilding-iron-ore/2016/01/12/id/709115/[7]




Baltic Dry Index falls to 402, down 13 points.

Today, Tuesday, January 12 2016, the Baltic Dry Index decreased by 13 points, reaching 402 points. Baltic Dry Index is compiled by the London-based Baltic Exchange and covers prices for transported cargo such as coal, grain and iron ore. The index is based on a daily survey of agents all over the world. Baltic Dry hit a temporary peak on May 20, 2008, when the index hit 11,793. The lowest level ever reached was on Tuesday, January 12 2016, when the index dropped to 402 points.


http://www.hellenicshippingnews.com/baltic-dry-index-falls-to-402-down-13-points/[8]


U.S. coal getting squeezed

Arch Coal becomes the latest U.S. coal giant to file for bankruptcy.
By Daniel J. Graeber

NEW YORK, Jan. 12 (UPI) — A bankruptcy filing by Arch Coal Inc. pushes the default rate for U.S. coal companies up 4 percent from the end of December, Fitch Ratings finds. Arch Coal, one of the largest coal companies in the country, filed for Chapter 11 bankruptcy protection Monday. "Under the terms of the agreement, the lenders have agreed to support a restructuring transaction that will eliminate more than $4.5 billion in debt from Arch's balance sheet and position the company for long-term success," the company said in its notification.

Expansions in the coal industry outside the United States means export options for the U.S. coal industry are dwindling, and an increase in the value of the U.S. dollar makes U.S. goods more expensive. Alpha Natural Resources, one of the largest U.S. coal companies, filed for bankruptcy protection in August. At least two other companies in, or tied to, the coal industry defaulted last year.


http://www.upi.com/Business_News/Energy-Industry/2016/01/12/US-coal-getting-squeezed/8271452598464/[9]


EIA: Coal Prices, Production Decline in 2015
By Steven Johnson

The price of coal is falling and so is production, according to the Energy Information Administration. The agency said Jan. 8 that low natural gas prices, lower demand and more environmental regulations factored into declining prices and mine output in 2015.

Most major coal-producing regions witnessed double-digit price drops in 2015 after a relatively stable 2014. Coal prices in the Powder River Basin in Wyoming, the nation s most important deposit of low-sulfur coal, fell by 18 percent, EIA said. Only the Rocky Mountain region, one of the agency s five defined coal regions, experienced stable prices in 2015. The Central Appalachian region saw a 22 percent price dip at the same time that its production dropped by 40 percent, compared with the 2010-2014 average, EIA said.

Difficult mining geology and high operating costs contributed to the lower numbers, the agency reported.

EIA said overall U.S. coal production in 2015 was about 900 million short tons, 10 percent lower than in 2014 and the lowest level since 1986.

U.S. coal exports also declined in 2015, especially to major coal export destinations such as Europe and China. When complete data are available, EIA said exports will show a 21 percent decline from 2014, including a 50 percent drop in shipments to the United Kingdom and Italy. The agency said the trends are likely to continue into 2016 with low natural gas prices and the uncertainty about the cost of compliance for coal plants under new federal emission regulations. The power sector is expected to use about 764 million short tons of coal in 2016, down sharply from a peak of more than 1 billion short tons in 2008.


http://www.ect.coop/industry/trends-reports-analyses/eia-coal-prices-production-decline-in-2015/88199[10]


Bank of America: Rail Traffic Is Saying Something Worrying About the U.S. Economy

Rail carloads are looking recessionary.
By Julie Verhage

It's not the jobs report or the latest housing data but railway cargo that has analysts at Bank of America concerned.

Railroad cargo in the U.S. dropped the most in six years in 2015, and things aren't looking good for the new year.

"We believe rail data may be signaling a warning for the broader economy," the recent note from Bank of America says. "Carloads have declined more than 5 percent in each of the past 11 weeks on a year-over-year basis. While one-off volume declines occur occasionally, they are generally followed by a recovery shortly thereafter. The current period of substantial and sustained weakness, including last week s -10.1 percent decline, has not occurred since 2009."

BofA analysts led by Ken Hoexter look at the past 30 years to see what this type of steep decline usually means for the U.S. economy. What they found wasn't particularly encouraging: All such drops in rail carloads preceded, or were accompanied by, an economic slowdown (Note: They excluded 1996 due to an extremely harsh winter).


http://www.bloomberg.com/news/articles/2016-01-11/bank-of-america-rail-traffic-is-saying-something-worrying-about-the-u-s-economy[11]


Baltic Dry Index!!!!!!!!!!!!!!!!!!!!!!!!!!!!!!!
http://www.therealnewsmatters.com/search?q=Baltic+Dry+Index&max-results=20&by-date=true[12]


Obama WAR on Coal………………….Job Well Done…………..Victory!!!!!!!!!!!!!!!!!!!!!!
http://www.therealnewsmatters.com/search?q=Obama+WAR+on+Coal[13]


Transportation Index………………….RECESSION Dead Ahead!!!!!!!!!!!!!!!!!!!!!!!!!!!!!!!!!
http://www.therealnewsmatters.com/search?q=Transportation+Index[14]




Latest forecast January 8, 2016

The GDPNow model forecast for real GDP growth (seasonally adjusted annual rate) in the fourth quarter of 2015 is 0.8 percent on January 8, down from 1.0 percent on January 6. The forecast for the contribution of inventory investment to fourth-quarter real GDP growth declined 0.2 percentage points to -0.8 percentage points after this morning's wholesale trade report from the U.S. Census Bureau.


Obama's America………………..Members of the Middle Class of America, BEND OVER because Obama "IS" going to Drill YOU Again Tonight!!!!!!!!!!!!!!!!!!!!!!!!!
http://www.therealnewsmatters.com/search?q=Obama%27s+America&max-results=20&by-date=true[15]



The American Middle Class has Been Totally SCREWED by Obama and the ASSHOLES Running the Federal Reserve!!!!!!!!!!!!!!!!!!!!!!!
http://www.therealnewsmatters.com/search?q=The+American+Middle+Class&max-results=20&by-date=true[16]

References
Grant Williams: The End Of The Road

The Fed is finally boxed in
By Adam Taggart

Grant Williams returns this week to set the context for this week's FOMC meeting, where the Federal Reserve is widely expected to hike interest rates for the first time in nearly a decade. To say he is very skeptical of the Fed's ability to continue to control market forces much longer is a gross understatement:

None of this has been tried before and, to me, that just demonstrates the dangers. Once you get into a situation like the central banks did in 08 with this panicking — everyone calls it the Hotel California — you can t get out. And, so incrementally, they have to keep doing something. Instead of stepping back and letting free markets and business cycles and forces of nature have their way and flush out all of the impurities in the system, this is what happens. And, yet, this time, for whatever reason, I think since post-Volker, Greenspan has basically started this ball rolling with this knee-jerk reaction to slash interest rates. And, you can kind of understand it, because everyone was still traumatized by the high inflation of the 70s. But, they started and they started down that road. And, if you look at a chart of interest rates in the U.S., you can see. It s just, from 1980 I ve marked two points on all my charts for presentations. One is the end of the gold standard, August 15, 71, when Nixon closed the gold window. And, the next is peak interest rates in 1980. And, if you look at those two charts and you see what s happened with interest rates since, they ve been on a course to hit zero ever since. But, if you step back from that and you say forget the creeping nature of this and how we ve gradually got here, try and parachute yourself in and look at the situation, and look at it through clear eyes, you'll say, Hang on, we have negative nominal interest rates, and we have people queuing up to buy the debt of what are clearly bankrupt governments at negative interest rates. It would take you no time at all to think, Well, this is, this is ridiculous. Not only that, but this is the end of the road. It has to end here or near here.

And, so I think that s where we are. I think we ve reached the end of the road. That s not to say the end of the road is a brick wall. We can be trying to turn the car around for a year, who knows, trying to find another way out of this thing. But, we re there. I mean, believe it or not, we are there. And, so how this thing plays out, none of us know. But, I suspect that the tactics that are going to be employed are going to get more and more desperate, because they have to keep going now. They re so far in, they have to keep going, and keeping going means doing more and more extraordinary things. It s a relative game. There are people that have to be invested. And, so you can herd them by taking away the chance of investing into one thing, i.e., putting rates at zero so you can t just put your money in cash or short-term Treasuries. By doing that, you know, psychologically, you re going to herd them somewhere else, and that s been into the stock market, it s been into asset prices, which is fine. But, it s not a temporary removal of that ability to put stock in cash. You have to keep that away from them, because if you give it back to them, if you give them back that option, it s going to mean interest rates are at much higher levels, which is going to screw all the debt payments. They are going to run for the hills faster than you can imagine, because none of this stuff is what you would choose to invest in, all things being equal. You wouldn t invest in the S&P where it is now, after the run it s had. God knows you wouldn t invest in government bonds where they are now. You might take a long hard look at asset prices and think, Well, you know what, actually, I might buy some base commodities here, because they ve been just completely slaughtered. But, you certainly wouldn t be investing in the two things that they need you to invest in, which are government bonds and equities. So, that s the real problem. And, the fact that they realize that tells me that we are getting to the end of this road, because that credibility is not something they can maintain forever, particularly when they ve boxed themselves in with negative interest rates.

Click the play button below to listen to Chris' interview with Grant Williams (59m:06s)


http://www.peakprosperity.com/podcast/95738/grant-williams-end-road[1]
The Fed s Stars Never Aligned
By MN Gordon
Notable Disfigurements
On Wednesday, following the two day Federal Open Market Committee meeting, Fed Chair Janet Yellen will likely announce that the Fed will do something they haven t done in nearly a decade. They will raise the federal funds rate. Obviously, a lot has happened since June 29, 2006. For example, on June 29, 2007, precisely one year after the Fed s last rate increase, the first generation Apple iPhone was released. What this has to do with Fed, we really don t know. But it does offer perspective on just how doggone long it has been since the world has known a rising federal funds rate. As far as the economy goes, the last 10-years haven t all been peaches and cream. Several notable disfigurements include the Great Recession, the ignoble disappearance of Lehman Brothers, TARP, trillion dollar budget deficits, the addition of over $3 trillion to the Fed s balance sheet, seven years of zero interest rate policy, and the addition of over $10 trillion to the national debt.
Yet finally, after much dithering and prevarication, the navel gazers at the Fed have found the power within themselves to ever so slightly ease up on the gas pedal of monetary policy. Should one cheer? Should one boo? Should one care? To be clear, a federal funds rate increase of 0.25 percent is hardly normalization. Monetary policy will still be operating with extreme intervention into credit markets and the economy. The Fed will still be provoking massive asset price distortions and dangerous market instabilities. Operating a Thermostat
Certainly the Fed has to start increasing rates one way or another. A quarter percent increase is the logical launch place. But will the Fed obtain liftoff or will the ship of monetary policy flame out on the launch pad?
During the last rate increasing episode, Fed chair Alan Greenspan and later Ben Bernanke incrementally raised rates a quarter percent at a time, 16-consecutive times, over a two year period between June 30, 2004 and June 29, 2006. This brought the federal funds rate from 1 percent to 5.25 percent. If you recall, asset price distortions raged this entire time.
http://www.acting-man.com/?p=42101[2]
Same Institution, Different Worlds: Fed Set To Declare Full Recovery On Same Day It Declares Recession Through IP
By Jeffrey P. Snider
It is perhaps the perfect situational irony of this economic age, with the FOMC set to end its emergency policies by raising rates for the first time in a decade the very same day that the very same outfit, the Federal Reserve s staff, just declared that the past cycle may have long since peaked. The monetary policy exit is a nod toward worries about the economy possibly overheating, meaning that the FOMC is considering a sprightful and fulfilling economic course at the same moment the institution declares the next recession may have already begun. You cannot make this up. With the manufacturing economy in recession, the latest figures for industrial production more than suggest that has spread and broadened. A negative year-over-year rate for IP is almost completely recessionary as a signal for economy-wide interpretation, but -1.2% leaves almost no doubt. Since 1950, only three months of IP have been worse than -1% without association with a declared recession two of those, June and July 1952, relate to the end of the Korean Conflict. The absence of false positives, and the consistency of interpretation, is far more than compelling. As with general manufacturing, the decline is sharp and sustained, both characteristics that define our traditional recession understanding. Given the state of inventory, imperiling as it has been, this is not unexpected but more so concerning. In other words, as has been noted of manufacturing, the decline in output to this point has failed to solve, or even dent, the inventory imbalance. Thus, if we should find a full-scale industrial and economic recession already in process and progress, what might it look like to actually achieve inventory reversion and balance?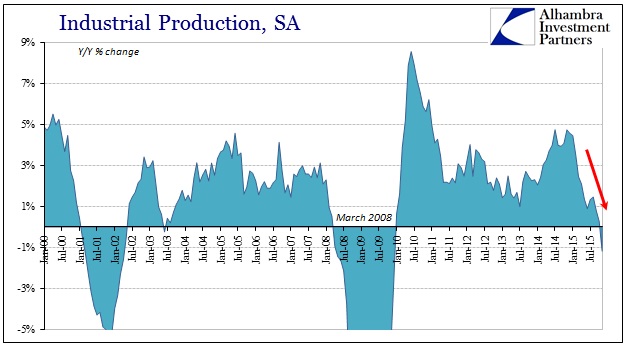 http://www.alhambrapartners.com/2015/12/16/same-institution-different-worlds-fed-set-to-declare-full-recovery-on-same-day-it-declares-recession-through-ip/[3]
Wells Fargo Raises their ""Prime Interest Rates to 3.5%……………..Let the ""Great American Recession of 2016"" BEGIN!!!!!!!!!!!!!!!!!!!!!!!!
JP Morgan And Citigroup Agree That The U.S. Economy Is Steamrolling Toward A Recession
By Michael Snyder
As we approach the end of 2015, researchers at both JP Morgan and Citigroup agree that the probability that the U.S. economy will soon plunge into recession is rising. Just last week, a member of the U.S. House of Representatives asked Janet Yellen about Citigroup s assessment that there is a 65 percent chance that the United States will experience an economic recession in 2016. You can read her answer below. And just a few days ago, JP Morgan economists Michael Feroli, Daniel Silver, Jesse Edgerton, and Robert Mellman released a report in which they declared that the probability of recession within three years has risen to an eye-catching 76%
http://www.therealnewsmatters.com/2015/12/jp-morgan-and-citigroup-agree-that-u.html[4]
Industrial Production Declines Most in 3.5 Years, Down Eighth Time in Ten Months
By Mike "Mish" Shedlock
Industrial production shocked to the downside this morning with a drop of 0.6%, the most in 3.5 years vs. an Econoday Consensus guess of -0.2%. Moreover, last month was revised lower, from -0.2% to -0.4%.
http://globaleconomicanalysis.blogspot.com/2015/12/industrial-production-declines-most-in.html[5]
US Manufacturing PMI Plunges To Lowest Since 2012 As Factory Orders Collapse To 2009 Lows
Following the collapse in industrial production, it is no surprise that Markit's Manufacturing PMI has plunged to 51.3, its lowest since October 2012. Under the surface it is a disaster with production volume growth the softest since October 2013, and new orders crashed to worst since September 2009.
http://www.zerohedge.com/news/2015-12-16/us-manufacturing-pmi-plunges-lowest-2012-factory-orders-collapse-2009-lows[6]
U.S. Manufacturing
http://www.therealnewsmatters.com/search?q=U.S.+Manufacturing[7]
Oil Prices and Global Growth
By Kenneth Rogoff
Kenneth Rogoff, Professor of Economics and Public Policy at Harvard University and recipient of the 2011 Deutsche Bank Prize in Financial Economics, was the chief economist of the International Monetary Fund from 2001 to 2003. CAMBRIDGE One of the biggest economic surprises of 2015 is that the stunning drop in global oil prices did not deliver a bigger boost to global growth. Despite the collapse in prices, from over $115 per barrel in June 2014 to $45 at the end of November 2015, most macroeconomic models suggest that the impact on global growth has been less than expected perhaps 0.5% of global GDP. The good news is that this welcome but modest effect on growth probably will not die out in 2016. The bad news is that low prices will place even greater strains on the main oil-exporting countries.
Support Project Syndicate s mission
Project Syndicate needs your help to provide readers everywhere equal access to the ideas and debates shaping their lives.
Learn more
The recent decline in oil prices is on par with the supply-driven drop in 1985-1986, when OPEC members (read: Saudi Arabia) decided to reverse supply cuts to regain market share. It is also comparable to the demand-driven collapse in 2008-2009, following the global financial crisis. To the extent that demand factors drive an oil-price drop, one would not expect a major positive impact; the oil price is more of an automatic stabilizer than an exogenous force driving the global economy. Supply shocks, on the other hand, ought to have a significant positive impact.
Although parsing the 2014-2015 oil-price shock is not as straightforward as in the two previous episodes, the driving forces seem to be roughly evenly split between demand and supply factors. Certainly, a slowing China that is rebalancing toward domestic consumption has put a damper on all global commodity prices, with metal indices also falling sharply in 2015. (Gold prices, for example, at $1,050 per ounce at the end of November, are far off their peak of nearly $1,890 in September 2011, and copper prices have fallen almost as much since 2011.)
New sources of oil supply, however, have been at least as important. Thanks to the shale-energy revolution, American oil production has risen from five million barrels per day in 2008 to 9.3 million barrels in 2015, a supply boom that has so far persisted, despite the price collapse. Anticipation of post-sanctions Iranian oil production has also affected markets. A decline in oil prices is to some extent a zero-sum game, with producers losing and consumers gaining. The usual thinking is that lower prices stimulate global demand, because consumers are likely to spend most of the windfall, whereas producers typically adjust by cutting back savings.
http://www.project-syndicate.org/commentary/oil-prices-global-growth-by-kenneth-rogoff-2015-12[8]
Crude Crashes To $35 Handle After Biggest December Inventory Build In 22 Years
Following last night's surprising 2.3mm barrel inventory build, reported by API, DOE reports a massive 4.8mm build against expectations of a 1.5mm barrel draw and way above the highest estimate of a 2.6mm draw. This is the biggest build in 2 months at a seasonally 'weak' time of year (and biggest December build since 1993). Crude ramped overnight to regain the losses from the API dump, but dropped back to lows (under $37) before the DOE data, then crashed below $36. Furthermore, production was up in the lower 48. Biggest build in 2 months…
http://www.zerohedge.com/news/2015-12-16/crude-crashes-35-handles-after-massive-surprise-inventory-build[9]
""FALLING Crude OIL Prices""…………..The REAL HELL "IS" Still to Comes especially WHEN America enters the ""***Export Markets***"" in 2016!!!!!!!!!!!!!!!!!!!!!!!!!!!
http://www.therealnewsmatters.com/search?q=FALLING+Crude+OIL+Prices&max-results=20&by-date=true[10]
Congress reaches fiscal deal that ends U.S. oil export ban
By BILLY HOUSE, ERIK WASSON, JAMES ROWLEY
WASHINGTON, D.C. (Bloomberg) — Congressional leaders agreed on a fiscal plan that would avert a U.S. government shutdown and lift the 40-year-old ban on crude oil exports, House Speaker Paul Ryan told fellow Republicans during a closed-door meeting Tuesday night.
Ryan said the House planned to vote Thursday on the $1.1-trillion government spending bill and a separate measure to revive a series of expired tax breaks, according to Representative John Kline of Minnesota. The measure would finance the government through September 2016.
Ryan laid out a compelling case to support the deal, which includes lifting the oil export ban, said Representative Reid Ribble of Wisconsin. Republican Representative Ann Wagner of Missouri said the proposal to lift the crude oil export ban is huge and would have a much bigger effect than building the Keystone XL pipeline. The tax measure would extend credits for renewable energy sources that begin construction by the end of 2016, and a $1 per gallon biodiesel credit measures sought by Democrats in exchange for lifting the oil export ban.
Stopgap Measure
http://www.worldoil.com/news/2015/12/16/congress-reaches-fiscal-deal-that-ends-us-oil-export-ban[11]
Sam Zell Real Estate Billionaire, WARNS that the END has Come for the U.S. Economy and It's NOW Time to PAY for the Sins Created by the FED and ""ZIRP""!!!!!!!!!!!!!!!!!!!!!!!!
http://www.therealnewsmatters.com/search?q=ZIRP&max-results=20&by-date=true[12]
Below the Bloomberg Interview Links are some Further Warnings that ZELL Hit on during the Hour Long Interview that was Heavily Edited!!!!!!!!!!!!!!!!!!!!!!!!!!!!
Zell: U.S. at Risk of Recession in Next 12 Months
5:39 AM PST
December 16, 2015
Sam Zell, chairman at Equity Group Investments, discusses the expected Federal Reserve rate hike, the risk of a near-term recession, and investor flexibility provided by low interest. He speaks on "Bloomberg GO ." (Source: Bloomberg)
http://www.bloomberg.com/news/videos/2015-12-16/zell-u-s-at-risk-of-recession-in-next-12-months[13]
Sam Zell on Investing in Distressed Energy Assets
5:53 AM PST
December 16, 2015
Equity Group Investments Founder Sam Zell discusses investment opportunities in the energy sector. He speaks on "Bloomberg GO ." (Source: Bloomberg)
http://www.bloomberg.com/news/videos/2015-12-16/sam-zell-on-investing-in-distressed-energy-assets[14]
Sam Zell: Hard Not to Be Seller in Real Estate Market
5:58 AM PST
December 16, 2015
Equity Group Investments Founder Sam Zell discusses U.S. housing. He speaks on "Bloomberg GO ." (Source: Bloomberg)
http://www.bloomberg.com/news/videos/2015-12-16/sam-zell-hard-not-to-be-seller-in-real-estate-market[15]
Sam Zell: Fed Rate Hike is Six-Eight Months Too Late
6:01 AM PST
December 16, 2015
Sam Zell, chairman at Equity Group Investments, discusses a delayed rate hike from the Federal Reserve and his expectations for a U.S. recession in the next 12 months. He speaks on "Bloomberg GO ." (Source: Bloomberg)
http://www.bloomberg.com/news/videos/2015-12-16/sam-zell-fed-rate-hike-is-six-eight-months-too-late[16]
Sam Zell: I Don't Buy Anything Without an Edge
6:10 AM PST
December 16, 2015
Equity Group Investments Founder Sam Zell discusses distressed debt markets and his investment thoughts. He speaks on "Bloomberg GO ." (Source: Bloomberg)
http://www.bloomberg.com/news/videos/2015-12-16/sam-zell-i-don-t-buy-anything-without-an-edge[17]
Sam Zell: I'm Not a Big Buyer of Real Estate Today
6:15 AM PST
December 16, 2015
Sam Zell, chairman at Equity Group Investments, talks about his approach to the current real estate market and examines his deal with Barry Sternlicht. He speaks on "Bloomberg GO ." (Source: Bloomberg)
http://www.bloomberg.com/news/videos/2015-12-16/sam-zell-i-m-not-a-big-buyer-of-real-estate-today[18]


Goldman Sachs: Junk Bond Spreads Are at Recession Levels
ZIRP has sheltered the U.S. economy from imminent damage
By Luke Kawa
Liftoff by the Federal Reserve "comes at an awkward time for U.S. credit markets," writes Charles Himmelberg, chief credit strategist at Goldman Sachs. That's because high-yield credit spreads are flashing a warning sign, rising to levels that have been historically consistent with a U.S. recession:
http://www.bloomberg.com/news/articles/2015-12-16/goldman-sachs-junk-bond-spreads-are-at-recession-levels[19]


There's No Upside Left
By Charles Smith
The upside is ephemeral, illusory or wishful thinking; the downside is real and lasting. There's no upside left–not just in the real economy, but in jobs, politics or policy tweaks. Yes, there will be huge relief rallies in the stock market–relief that the Fed is still omnipotent, that the Fed didn't destroy the world by withdrawing liquidity, etc., etc., etc.–but in terms of sales and profits, there's no upside left: an increasingly nervous upper middle class is reining in profligate spending, while everyone below the top 10% is running out of credit cards, student loans, etc. to tap.
Whatever surplus the real economy generated has been skimmed by financiers, lenders and the central state. Stock buybacks have boosted the wealth of corporate managers and institutional owners while creating zero jobs; lenders have feasted on high-interest credit cards, federally backed student loans and subprime auto loans that are immediately spun off to credulous suckers (Widows and Orphans Fund of Norway, et al.) as high-yield securitized debt. Anyone working for Corporate America or government has little upside but plenty of downside: bonuses are being slashed, divisions closed, sold off or privatized in the case of government, all to cut costs. State and local pension funds, bloated by seven years of speculative frenzy, are about to start bleeding from every orifice as reality and risk intrude on the central banks' fantasy of never-ending asset bubbles.
Whatever pension and bennies you were promised–start practicing your fractions, because only a fraction of the bloated promises made by politicos desperate to get re-elected can be paid in the real world.
http://charleshughsmith.blogspot.com/2015/12/theres-no-upside-left.html[20]
Baltic Dry Crashes To New Record Low As China "Demand Is Collapsing"
Despite a brief dead-cat-bounce late November, which Jim Cramer heralded as evidence of stabilization in China, the world's best known freight index has collapsed to new all-time record lows this morning. Amid a persistent glut of ships and ongoing concerns about Chinese steel imports, The Baltic Dry has tumbled to 471 – the lowest level in at least 30 years. Worst. Ever.
http://www.zerohedge.com/news/2015-12-16/baltic-dry-crashes-new-record-low-china-demand-collapsing[21]


Freight Shipments Hammered by Inventory Glut, Weak Demand
By Wolf Richter
The goods-based economy swoons. The transportation sector just keeps getting worse. Even after today s uptick, the Dow Jones Transportation Average is back where it was in April 2014, and down 18% from its peak a year ago. Within this transportation sector is freight, a gauge of the goods-based economy, which is having a rough time.
In November, the number of freight shipments in North America plunged 5.1% from a year ago, according to the Cass Freight Index. It hit the worst level for any November since 2011. The index is based on $28 billion in freight transactions processed by Cass on behalf of its client base of hundreds of large shippers, Cass explains. It covers shipments, regardless of the mode of transportation, including shipments by truck and rail. It does not cover bulk commodities. Shippers include companies in consumer packaged goods, food, automotive, chemical, OEM, heavy equipment, and retail. This index of shipment volume has been lower year-over-year every month, with the exception of January and February, which makes for an increasingly awful looking year:
http://wolfstreet.com/2015/12/15/freight-shipments-plummet-as-inventory-glut-bites/[22]


Spain s Biggest Bankruptcy Ever Hits Banks, Mexico, Brazil, Descends into Bitter Farce
By Don Quijones
Negative profits were being converted into positives.
Abengoa, the Spanish renewables giant that once thought it had mastered the dark arts of financialization only to crumble under the weight of its own debt, urgently needs a lifeline. In November, it filed for preliminary protection from creditors. If it doesn t get a lifeline, it will be go down in history as Spain s biggest bankruptcy ever. According to the latest accounts, its creditors may have thrown it that lifeline, but barely enough to last through the very inconvenient general elections this Sunday and the holidays, when the government is off.
A Last Minute Stay
Amazing as it seems for a publicly traded company, there s still no official figure for the firm s total financial liabilities, Reuters reported, though separate sources familiar with the matter say they total at least ' 25 billion. The banks on the hook for about 80% of that debt include Spain s Santander, Caixabank, Bankia, Banco Sabadell and Banco Popular; France s Credit Agricole, Soci t Generale and Natixis; London-based HSBC and the US behemoths Bank of America and Citi. These banks could have a big problem on their hands, especially since the Spanish government is currently powerless to intervene.
In normal circumstances, finding a few hundred million euros to help out a domestic company in need especially one that is estimated to owe national and international banks and investors ' 25 billion would be routine, particularly when Mario Draghi is conjuring up ' 60 billion of QE funny money each month. But these are not normal circumstances. The general elections this Sunday are so tight they re impossible to call. And just before the election is certainly not the time for the government, which has been preaching austerity to the regular people, to be bailing out yet another big company.
http://wolfstreet.com/2015/12/15/spains-biggest-bankruptcy-ever-hits-banks-mexico-brazil-descends-into-bitter-farce/[23]
Banks ready to extend short-term lifeline to Spain's Abengoa
MADRID | By Julien Toyer and Carlos Ruano
Creditor banks are ready to extend a short-term cash lifeline to debt-laden Spanish energy group Abengoa (ABGek.MC) to avert what would be Spain's biggest-ever bankruptcy, according to sources, but the firm's future beyond January remains unclear. The banks' are prepared to offer the company 210 million euros ($229 million) so it can pay salaries and maintain current operations, according to the two banking sources familiar with the matter, in the latest twist in talks that began last month to ensure that Abengoa stays afloat.
Abengoa declined to comment, as did a steering committee representing its roughly 200 creditor banks worldwide. The company, which started out 70 years ago as a business to design and make electricity meters in Seville, southern Spain, is now a renewable energy giant operating in a dozen countries across four continents. It has been praised by politicians including U.S. President Barack Obama for its solar-thermal plants which produce clean electricity at a competitive price in places such as the Mojave desert in Arizona and South Africa's Northern Cape province.
But its aggressive expansion into the clean energy business since 2007 has been fuelled by taking on huge debts, which finally brought the company to its knees this year when its lenders refused to extend credit lines.
Its market value, which had risen rapidly to top 4 billion euros last year, has since plunged by more than 90 percent – with investors fearing the firm could collapse under its debt, and unsettled by its opaque and tightly-controlled financial structure, still in the hands of the Benjumea founding family.
http://www.reuters.com/article/us-abengoa-banks-idUSKBN0TY28J20151215[24]


Nothing Can STOP the ""Global RECESSION"" because it's already BEGUN!!!!!!!!!!!!!!!!!!
http://www.therealnewsmatters.com/search?q=Global+RECESSION&max-results=20&by-date=true[25]


U.S. Housing…………………Now Comes the CORRECTION!!!!!!!!!!!!!!!!!!
http://www.therealnewsmatters.com/search?q=U.S.+Housing&max-results=20&by-date=true[26]
JUNK BONDS……………………..Signaling RECESSION for at least a YEAR!!!!!!!!!!!!!!!!!!!!
http://www.therealnewsmatters.com/search?q=JUNK+BONDS&max-results=20&by-date=true[27]


""Global TRADE""!!!!!!!!!!!!!!!!!!!!!!!!
http://www.therealnewsmatters.com/search?q=Global+TRADE[28]


""Baltic Dry Index""!!!!!!!!!!!!!!!!
http://www.therealnewsmatters.com/search?q=Baltic+Dry+Index&max-results=20&by-date=true[29]
DOW Transports!!!!!!!!!!!!!!!!!!!!!!!!!!!!!!!!
http://www.therealnewsmatters.com/search?q=DOW+Transports&max-results=20&by-date=true[30]


DRAGHI…………………….""DEAD Man"" Walking!!!!!!!!!!!!!!!!!!! Europe's DEBT Problem "IS" going to be Coming back with a Vengence in 2016!!!!!!!!!!!!!!!!!!!!!!!!!
http://www.therealnewsmatters.com/search?q=DRAGHI&max-results=20&by-date=true[31]
""LAB RATS"" of Planet EARTH……………….You have BEEN Played for FOOLS by the Assholes on Wall Street and by YOUR Government…………………..Prepare to be FUCKED………………..AGAIN!!!!!!!!!!!!!!!!!!!!!!!!!!!!!!!!!!!!!!
http://www.therealnewsmatters.com/search?q=%22%22LAB+RATS%22%22+of+Planet+EARTH&max-results=20&by-date=true[32]
References